Performance MIXER ⇣
Eslogan.
Performance Mixer serves as a central control and mixing hub for your modular system, allowing you to combine and shape multiple audio signals from various sound sources.
4 different areas.
MONO
Channels 1 · 2
Volume, Panning and Auxiliary send controls with CV for each function.

Knob recording (REC), CUE bus and MUTE function are operated through the switches.
STEREO
Channels 3 · 4
Same as MONO Channel, but the CV for the AUX function is replaced by the right (R) audio input.
AUXILIAR

2 Mono Sends (X & Y) with pre-fader / post-fader selector for each channel.

2 Stereo Returns with colume adjust.
MASTER

Master volume adjust for the main outputs with vu-meter for checking the signal levels.

Headphone output with volume and cue/mix blending knob.
download the quick guide
to get started with your system
Open Spaces
Knob recording.
Press the REC button and then move the involved knobs to start recording.

Works only for AUX, PAN knobs and VOLUME fader (Channels 1-4)
Característica 1
MUTE LED
The light on the MUTE button not only shows whether each channel is muted or not, but also gives information about the status of its Knob Recording function.
Característica 3.
The maximum module depth above the busboard connectors is 47mm, but you can place modules up to 60mm outside of the busboard space.
That should be sufficient to fit the vast majority of modules out there.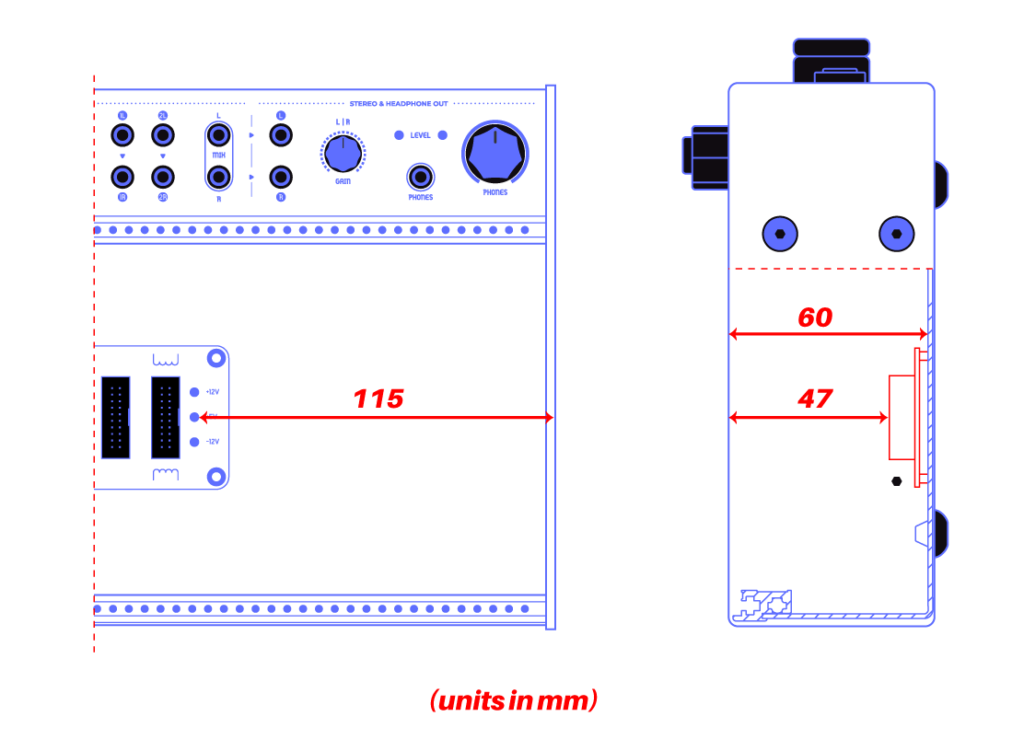 Punto fuerte 3
We know how hard it is to carry a modular system from one place to another, so we wanted to make it easy for you.

The lightweight aluminium, together with the handle, make it super easy to take your modules with you. Weighs only 1.7 Kg!
Explicación digital.
Includes space for patch cables, power supply and other accessories.

Super lightweight and equipped with 1 cm hard foam made from Cordura, an incredibly strong and durable material that will keep it well protected.
What people say 🔥
CAIXA 104 – PERFECT STARTER CASE!


by Electronicsounds Audio
Unboxing and detailed review of CAIXA 104. Electronicsounds tells us his favourite features, always with very useful music examples, and goes through its 7 integrated modules.
Is the CAIXA 104 the Best Beginner's Eurorack Modular Case?


by SynthDad
Quick video with SynthDad's initial thoughts, case overview and pros and cons of CAIXA 104. It is a joy listening to him speaking about it in such a clear and precise language.
Episode 88: Nano Modules CAIXA 104
by Modular Clubhouse
Overview, in depth look and jamming session with the lovely Jesper.
Utility Modules
Balanced Inputs
Buffered Multiples
Precision Adder
2 LFOs
Sample & Hold
Stereo Mixer
Stereo & Headphone Out
Power Specifications
30.7W Integrated switching power supply with Meanwell 60W power brick.
+12V output at 1.25A
-12V output at 1.1A
+5V output at 0.5A
Construction
Dimensions: 535 x 200 x 86 mm
Materials: Anodized aluminum
Aluminium extruded rails with steel threaded inserts
Rubber feet to protect your desktop.
Depth Maximum module depth → 47 mm inside busboard space, 60mm outside.
download the quick guide
to get started with your system